Field Coordinator (Crew Leader) Maternity Leave Position –Wingham/Taree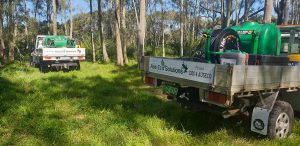 Does your career need a tree change?

Aus Eco Solutions are industry leaders in the restoration of flora and fauna habitat with offices in Victoria and New South Wales. We are enthusiastically looking for highly driven individuals who love the amazing outdoors with exceptional project management and people skills to lead our field ranger teams and manage our expanding workflow on the mid north coast of NSW.
"Working at Aus Eco Solutions as a Field Coordinator for four years has provided me with an abundance of opportunities that I never thought I would be able to achieve. I have been able to upskill in many different areas of my work life and personal life due to the support and motivation received from the whole team at Aus Eco Solutions. Don't get me wrong, the position is challenging, however, if you are able to manage priorities and problem solve the issues, you will go a long way in this position. This position takes a lot of hard work and dedication, however, the whole team at Aus Eco Solutions makes most days feel like a breeze!" ~ Teagen Armstrong (Projects Coordinator Geelong Region)
This is a twelve-month contract maternity leave position with potential for ongoing work based in Wingham/Taree. You will need to be a great communicator, self-motivated and be able to work as part of a team. We are a family-owned business and have been growing and innovating for over 17 years with a big vision for the future. 
The successful applicants will enjoy a positive work environment and must share our passion and vision to be the leading preserver of flora and fauna in Australia through environmentally sound practices and innovation.
If you are a person who can make a difference to a team, a client and a business apply today by completing the application form, and sending your cover letter & resume via this webform link:
https://podio.com/webforms/26579533/2016621
Applications close midnight Sunday 5 December 2021.