Plenty Valley Christian College Wetlands (PVCC)
Located in Doreen, Victoria, these Wetlands were constructed by Allequip constructions as part of a future project earth student research program. Over 20,800 plants were planted over 10 days at this site by the Aus Eco Solutions team and the students of PVCC. The aim of this project was to establish wetlands at PVCC to cleanse the runoff water from the site, as well as providing suitable habitat for native wildlife. Aus Eco Solutions constructed a list of native water based plants for the sites revegetation program. The plants were strategically planted in each of their own suitable habitat, this could be within the wetlands or 20-60 cm above the waterline. These very site specific plants were planted by the students of PVCC as part of their Project Earth elective class. The wetlands plants were all planted to give the most natural look to the site, the students and teachers of the school all got involved whilst completing this environmentally sustainable activity.
Aus Eco Solutions recently went back down to PVCC to complete some plantings along the drainage systems in the wetlands. These drains carry the water to and from the wetlands, so it is essential to look after them properly. These plants were specifically planted in order to reduce erosion from the drains and to also reduce carrying sediment to and from the wetlands.
Aus Eco Solutions encourages other schools to incorporate Project Earth into their learning systems and to make conservation and land management a fun learning experience for everyone.
Testimonial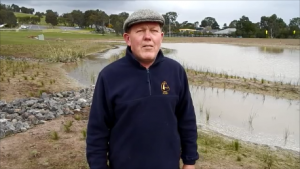 John McCandless – Plenty Valley Christian College
Would you recommend using Aus Eco Solutions in the future?
John: Yes, I would recommend Aus Eco Solutions to anybody. For the work that you have done here, its exceptional, it's great.
What were your thoughts on Aus Eco Solutions organisation and time management skills?
John: Everything was great, when they were finished they had everything packed up beautifully and they were happy to do it.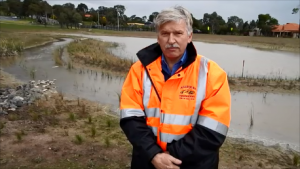 Ed James – All Equip Constructions
Are you happy with the quality of work that Aus Eco Solutions provided for Allequip Constructions, after you created the wetlands?
Ed: Yes, I was very pleased. We barely had to do anything after the construction of the wetlands. Everything was done very efficiently.
Would you employee Aus Eco Solutions for any landscaping or weed control work in the future?
Ed: Yes for sure. I wouldn't hesitate in recommending Aus Eco Solutions to other companies, and we would defiantly use you again in any other wetlands we plan to do.
What were your thoughts on Aus Eco Solutions customer service, organisation and communication skills?
Ed: It all worked out very well, because everything was organised, so we actually didn't have to do much at all. We met them in the morning and they knew what they were doing, they just got into it and worked rain, hail or shine. So it was excellent.
Winners!!
AllEquip received the Civil Contractors Federation Category One Earth Award for 2015 for the wetland construction at Plenty Valley Christian College. Aus Eco Solutions contributed to this project by planting and designing the revegetation component including 20,800 native wetland species. Field Coordinator Shakira Todd and project Leading Hand Rodney Bright attended the awards Gala Ball on Saturday 22 Aug 2015 to join AllEquip in accepting the award..
The CCF Earth Awards are the most prestigious awards in civil infrastructure and have the specific aim of recognising excellence and innovation in the fields of construction, environmental and project management.
18th Months Later….
Our crew went back out to the wetlands to check on progress and were happy with the results and growth.